Pseudorabies virus (gB) PCR detection kit
Detalye sa Produkto
Mga Tags sa Produkto
Pseudorabies virus (gB) PCR Detection Kit (Lyophilized)
48test / kit, 50test / kit
Ang kini nga kit naggamit real-time nga fluorescent PCR nga pamaagi aron mahibal-an ang RNA of Pseudorabies virus (gB gene) (PRV) sa mga materyal nga sakit sa tisyu sama sa mga tonsil, lymph node ug spleen ug likido nga mga materyal nga sakit sama sa bakuna ug dugo sa mga baboy. Kini angayan alang sa pagkakita, pagdayagnos ug pag-imbestiga sa epidemiological sa Pseudorabies virus (gB gene). Ang kit usa ka ALL-READY PCR SYSTEM (Lyophilized), nga adunay sulud nga DNA amplification enzyme, reaksyon nga buffer, piho nga mga pasiuna ug mga pagsusi nga gikinahanglan alang sa pagkakita sa fluorescent RT-PCR.
Mga Bahin
Pakete
pasalig
Sangkap

Pag-mix sa PRV PCR

1 × nga botelya (Lyophilized powder)

 

50Test

dNTPs, MgCl2, Mga Panguna

, Mga probe, Taq DNA polymerase

6 × 0.2ml 8 nga maayong pagkabutang nga tubo

(Lyophilized)

48Test

Positibo nga Pagkontrol

1 * 0.2ml tube (lyophilized)

 

10 Mga Pagsulay

Ang mga plasmid o Pseudovirus nga adunay sulud nga mga tipik nga PRV (gB)

Paglaraw nga solusyon

1.5 ml Cryotube

500uL

/

Negatibo nga Pagpugong

1.5 ml Cryotube

200uL

0.9% NaCl
Pagtipig ug Kinabuhi nga estante

(1) Ang kit mahimong ibalhin sa temperatura sa kuwarto.
(2) Ang kinabuhi sa estante 18 bulan sa -20 ℃ ug 12 bulan sa 2 ℃ ~ 30 ℃.
(3) Makita ang label sa kit alang sa petsa sa paghimo ug petsa sa pagtapos.
(4) Ang bersyon sa lyophilized powder nga reagent kinahanglan ibutang sa -20 ℃ pagkahuman sa pagkabungkag ug ang gibalikbalik nga pag-freeze - sa ika-4 nga beses kinahanglan nga mas mubu sa 4 ka beses.
Ang GENECHECKER UF-150, UF-300 nga instrumento sa PC fluorescence sa real-time.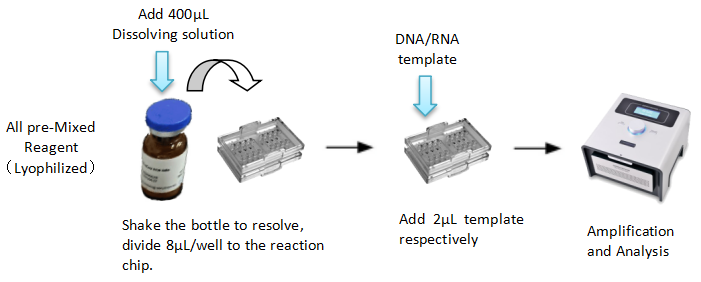 b) 8 maayo nga hubad nga bersyon sa tubo: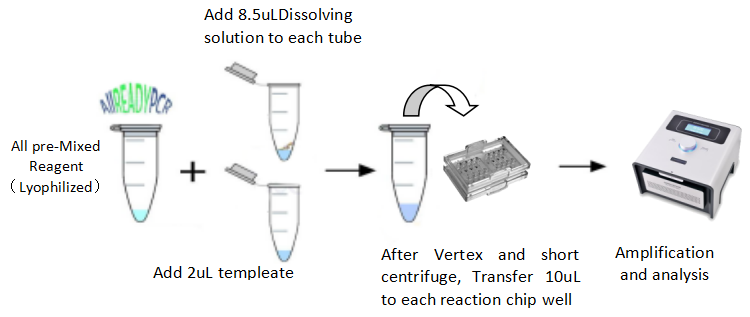 Girekomenda nga setting
Lakang

Siklo

Temperatura (℃)

Panahon

Channel sa Fluorescence

1

1

95

2min

/

2

40

95

5s

/

60

10s

Pagkolekta sa FAM fluorescence
* Hinumdomi: Ang mga signal sa FAM fluorescence channel makolekta sa 60 ℃.
Paghubad sa mga Resulta sa Pagsulay

Channel

Paghubad sa mga sangputanan

Channel sa FAM

Ct≤35

PRV (gB) Positibo

Undet

Negatibo ang PRV (gB)

35<Ct≤40

Suspicious resut, retest*
*If the retest result of FAM channel has a Ct value ≤40 and shows typical "S" shape amplification curve, the result is interpreted as positive, otherwise it is negative.
---
---